Carnal Coup - Public Release Version
Warning: 18+, NSFW, Adult Content.
Public Patreon build for Carnal Coup. Version 0.34.1 (10/31/2019), Text-based sci-fi smut!
Welcome! Carnal Coup is an 18+ Text-based game in a sci-fi setting! You take the role of a shapeshifting alien who has infiltrated an invasion force led by those uptight Terrans. Alien by alien, department by department, it's up to you to stop the invasion! ...Sexily!
Tell me about this coup? Your race, the Figura, have been deemed outrageously perverted by the Galactic Pure Union, and an Expedition has been sent to properly re-educate your people. With the help of a Terran turncoat, you've taken the place of the newly assigned Efficiency Overseer. With this position, it's up to you to turn the invasion back on itself, and teach the GPU what they've been missing!
But what does this have to offer me, the discerning alien pervert? Coup features the following...features:
Eight alien races (on top of the Figura and Terrans), who have each been assigned to run a different Expedition department based on their talents and skills. These races range from the fit, beastial Harian Commandos, to the cybernetic Lencist Roboticists, to the insectoid Roth Workers, and more! Each species has its own kinks to discover, including: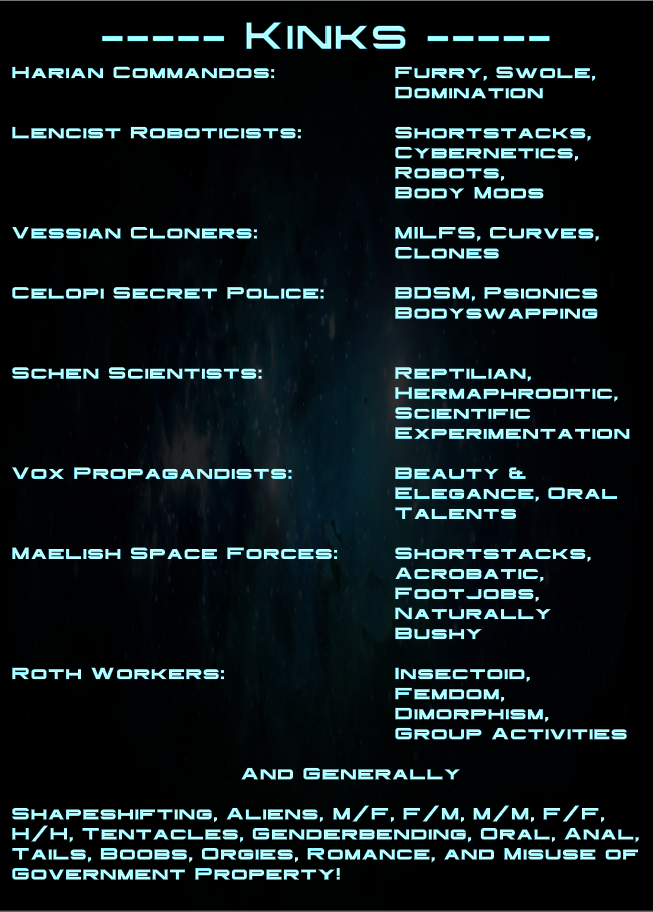 Gender preference flexibility! Whether you'd prefer a sapphic space station or a masculine military complex, many of the game's scenes are written to adapt to preferences that you select at the start of the game! While some species only come in a single gender, and certain NPCs are locked, it will be possible to play through most of the game's intimate scenes the way you'd prefer.
Multiple Endings! Aside from possible Bad Ends, it will be possible to play through the game as an aggressive Infiltrator, or a benign Liberator, depending on whether you'd rather screw the GPU...or just screw them over.
Interlocking Plotlines! It's not enough to simply seduce the directors of each alien department - you're going to have to hit the Expedition at every level, from the average Citizen, to the busy Departments, to unique Specialists. Whether you're looking for some quick fun, or someone you can get to know...and then have some quick fun with, you'll find it all in the Expedition!
So why the Patreon? I (DaScoot, Project Lead) am a programmer by trade, working a busy full-time job aside from this project. While Carnal Coup is and will remain largely text-based, my goal is to add art to as much of the game as possible, starting from race design portraits to full on graphic scenes. Good art, though, costs money, as I have no talents in that arena myself. Most of the Patreon's income is currently slated to end up going towards artist commissions. On top of that, I look forward to the community response as I continue to develop the game - after all, I'd like to think that I'm making this for more than just myself. The more the project brings in, the more content you'll get!
I want to try out the game, but I already gave my change to a hobo. That's fine! What goes on between you and consenting hobos is no business of mine! Fortunately, there is and will always be a public build of the game for you to try out, in both Windows and online WebGL formats. The public release will be about one month delayed from the supporter releases.
This is cool! Where can I find out more about you, since you're so cool? In addition to the blogspot page I cannot directly link, we also have a public Discord server at: https://discord.gg/DASPc65 There you can expect to find patch notes, species and project member highlights, and other game updates! The Project Coup team is currently:
DaScoot - Project Lead, Programmer, Writer
TDK - Art Design
Suki262 - CG Art
Vin4ART - Art Design
Mango - Art Design
Phall - Art Design
Francis Smith - Stories From Watch Station
Errata - Codex
You can find the Patreon at: https://www.patreon.com/CarnalCoup

The game blog is at: http://carnalcoup.blogspot.com/

Visit for more info!
v0.34.0 - v0.34.1 Combined Change Log
Game Functions:
Monthly Cheat Code Updated
Randomized Missions now identify their location.
Mission Content:
Figura Military Camp Randomized Missions added, 4 secondary encounters, 2 primary encounters.
Scene Content:
Specialist Double D Romance Scene 1.
Art Content:
Lencist Roboticists Department background added to Scenes and Gallery.
Maelish Pilots Department background added to Scenes and Gallery.
Vox Propagandists Department background added to Scenes and Gallery.
Roth Workers Department background added to Scenes and Gallery.
Codex Entries:
Bug Fixes:
Text scroll on mission encounters now resets to the top on the post-action text.
Fixed issue with random mission generation not being very random, cleaned up other randomization factors as well.
Known Issues:

TTS dialogue cannot be interrupted once begun. May have issues if triggered on multiple screens at once. TTS support is 64-bit Windows only.
WebGL Issues: Be warned that save game data in WebGL mode is less permanent than PC standalone. May also be more prone to memory and other issues.